A kit for the measurement of plasma ESM-1 concentrations
Special features
Complete ELISA kit with pre-coated plates
Rapid assay, takes less than 3 hours, less than 1 hour of hands-on-time
Quantification of the ESM-1 in biological fluids (sera, plasma) or in human cell culture supernatants
Ready to use assay
For research use only. Not for use in diagnostic procedures.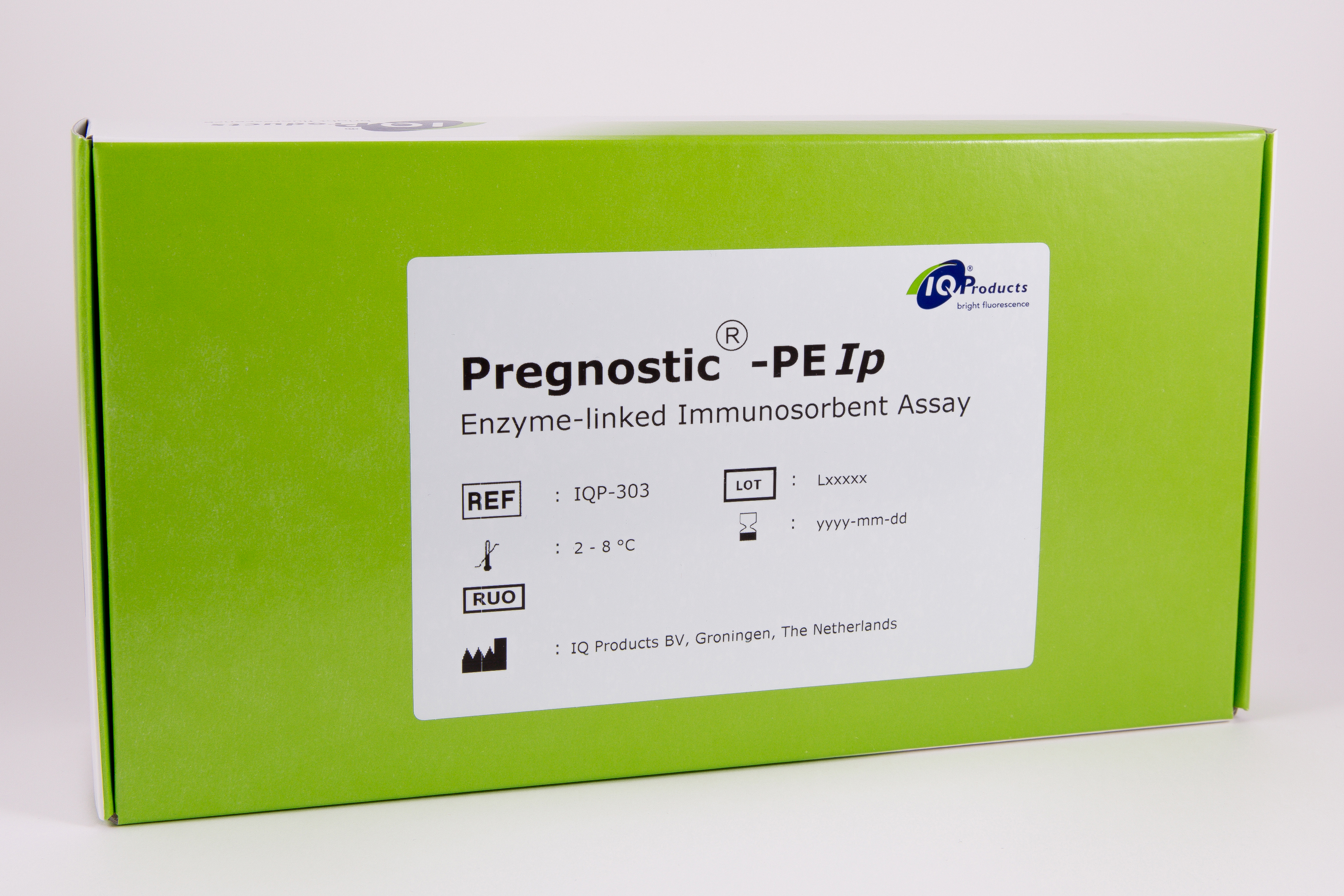 Contact us!
If you are interested in the Pregnostic®-PE Ip for research purposes in cooperation with IQ Products, please contact us!
Introduction
Endothelial cell-specific molecule (ESM-1) is a unique biomarker of vascular endothelial activation/dysfunction in diseases. The variation of blood levels of ESM-1 may reflect endothelial dysfunction in several pathological conditions, including sepsis, cancer, dengue fever and obesity 1. Higher ESM-1 levels are also related to occurrence of pre-eclampsia in pregnancy 2-6.
Recently IQ Products' Research and Development team published, in cooperation with the University Medical Center Groningen (The Netherlands), their findings of the ESM-1 plasma levels during uncomplicated and pre-eclamptic pregnancies in Pregnancy Hypertension.
Product specifications
Pregnostic®-PE Ip contains all components required for quantification of human ESM-1 in cell culture supernatants, serum or plasma. This human Pregnostic®-PE Ip ELISA set uses the robust and well-described quantitative sandwich immunoassay technique. The kit is available for research purposes. The performance characteristics of this kit have not completely established yet.
References:
Sarrazin et al. (2010) J Cancer Sci. Ther. 2: 47-52
Schuitemaker et al. (2018) Pregnancy Hypertens. Mar 1;12:58-64
Chang et al. (2015)  Int J Clin Exp Pathol. 8(11): 14733-14740
Adekola et al. (2015) J Matern Fetal Neonatal Med. 28(14):1621-1632
Cakmak et al. (2016) Clin Exp Hypertens. 38(2): 137-142
Hentschke et al. (2015) 74: 152-156