Collagen hybridizing peptide
Collagen has a unique triple helical structure that is unfolded in tissues during diseases, development, mechanical injury, and decellularization. The collagen hybridizing peptide (CHP) is a novel and unique peptide that specifically binds unfolded collagen chains, both in vitro and in vivo1,2,3, enabling a straightforward detection of inflammation and tissue damage caused by a large variety of diseases, as well as tissue remodeling during development and aging1.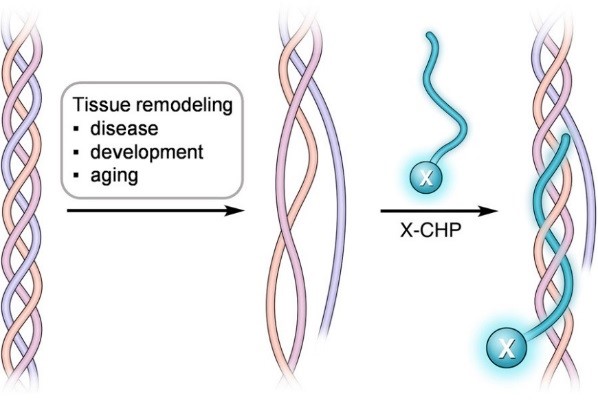 Figure 1. By sharing the structural and sequence motif of natural collagen, CHP has a strong capability to hybridize with denatured collagen strands, in a fashion that is similar to a DNA fragment annealing to its complimentary DNA strand during PCR1,4.
CHP is available with conjugates for fluorescence detection: 5-Carboxyfluorescein (F-CHP) or sulfo-Cyanine3 (R-CHP) or for avidin/streptavidin-mediated detection a biotin conjugation (B-CHP) (Table 1).
Table 1. Available CHP conjugates.
Item
Description
Regulatory status
Package size
Product Code
Collagen Hybridizing Peptide, 5 FAM Conjugate (F-CHP)1
CHP coupled with 5-FAM for immunofluorescence
RUO
60 μg
FLU60
300 μg
FLU300
Collagen Hybridizing Peptide, Cy3 Conjugate (R-CHP)1
CHP coupled with Cy3 for immunofluorescence
RUO
60 μg
RED60
300 μg
RED300
Collagen Hybridizing Peptide, Biotin Conjugate (B-CHP)1
CHP coupled with biotin for immunohistochemistry and SDS-PAGE
RUO
60 μg
BIO60
300 μg
BIO300
1 Distributed for 3Helix Inc., Salt Lake City, USA
Features
More informative, reliable and convenient than zymography, DQ collagen, SHG, and TEM
High affinity and unparalleled specificity to collagen with essentially no nonspecific binding
Applicable to all types of collagen from all species, relying on collagen's secondary structure instead of any defined sequence for binding
Suitable for both frozen and paraffin-embedded sections with no need for antigen retrieval
A non-antibody approach with no species restrictions against any co-staining antibody
Small size (2% of IgG by MW) enabling facile tissue penetration and whole specimen staining without sectioning
Stable in solution under 4 °C, eliminating the need to aliquot for storage
Applications
Immunofluorescence
Immunohistochemistry
Cell Imaging
SDS-PAGE (in-gel Western blot)
Order now!
Order your products via our order form!
Product codes: FLU60, FLU300, BIO60, BIO300, RED60 and RED300